NOT ALL HI-RES REMASTERS ARE CREATED EQUAL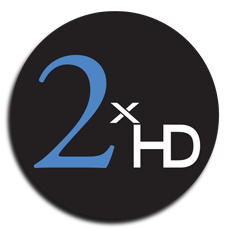 2xHD
THE MOST MUSICAL HIGH RESOLUTION
STANDARDAVAILABLE
2xHD is recognized by the industry leaders as one of the best high-end music companies in the world
Our unique process enables us to dig deep in original recordings, to bring out all hidden information,
without altering the music in any way.
We uncover nuances, warmth, depth of field. Even the air around the musicians.
Once you hear HD, you can't go back to MP3
At 2xHD, we have developed over the last ten years our own proprietary system in conjunction with state of the art audio equipment manufacturers. It is the most accurate and the most musical mastering system available today, earning recognition from our peers and from the specialized trade publications around the world.
The 2xHD standard resolution of the mastering transfer is DXD 24Bits/352.8kHz or DSD and DSD 2. From that resolution, 2xHD offers the most popular download HD format – 24Bits/96kHz, 24Bits/88.2kHz or 24Bits/48kHz. 2xHD also offers 24Bits/176.4kHz or 24Bits/192kHz, as well as DSD and DSD 2 formats for high end download websites.
A higher resolution transfer leads to a more open sound and the feeling that there is no ceiling because there is less digital filter.